Crane Services
Professional Crane Contractors in Oconto County WI
With a 30 ton crane with 100' of stick, Ourown Construction Corporation is ready for whatever it is you need us for. Here are just a few industries we can help.
AIR CONDITIONING / HVAC
Use Ourown Construction Corporation's crane service to set your rooftop AC/HVAC installations.
CONSTRUCTION
Our highly trained staff will accommodate your construction projects with our hoisting and rigging experience. We have worked in the field for a long time lifting wood beams and trusses, pallets loaded with materials, steel/rebar erection, architecturally exposed structural steel, metal paneling, masonry, etc.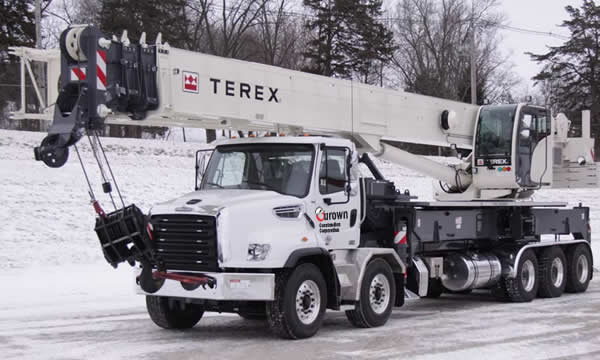 PUBLIC WORKS
Ourown Construction Corporation assures timely completion of every job undertaken. We work with municipalities, construction and engineering contractors and subcontractors.
ROOFING
Ourown Construction Corporation's crane service is ideal for the roofing industry. We can deliver materials like these to sites where access is limited: Shingles, ISO boards, tar paper, commercial rolled roofing, steel, electricity poles, decking, insulation materials and other materials can be positioned precisely to various points on the roof or ground, minimizing handling costs.
LOGISTICS
Ourown Construction Corporation provides materials handling and hydraulic crane services to companies whose focus is logistics. We can help you set containers on trailers or rail cars and assure that your valuable cargo is loaded safely and on schedule.
COMMERCIAL SIGNS
Ourown Construction Corporation is can help small to medium sized businesses and also public road signage needs. Regardless of whether you need a sign on top of your commercial building, highway billboards, banners, architectural signs or street traffic signs, we are the crane service you can rely on.
Call us today to speak about your crane needs.